Our Courts
10 PREMIER INDOOR COURTS
Our 10 premier indoor pickleball courts use a high-quality playing surface that is specifically designed for pickleball. The certified speed rated surface provides the ideal ball speed and spin rate for players,making it a favorite among pickleball enthusiasts. Pints & Paddle courts are USA Pickleball recommended sizes.
INDIRECT NATURAL LIGHT
Indirect lighting reduces glare and shadows on the court, which can improve visibility and reduce eye strain for players. This helps players track the ball more easily, react more quickly to shots, and play more accurately.
TEMPERATURE CONTROLLED
Playing pickleball indoors offers several advantages over playing outside, including the ability to control the climate for a comfortable and consistent playing environment year-round. With no wind, reduced sun exposure, and excellent lighting, indoor courts provide optimal playing conditions regardless of the time of day or weather conditions.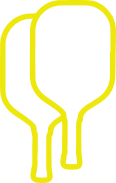 PRO SHOP
Check out our selection of pickleball equipment and merchandise available for purchase, including exclusive Pints & Paddle clothing. We have everything you need to enhance your game, including paddles, balls and other essential gear. If you're not quite ready to make a purchase, we also offer rental paddles.